Automotive Service Center Claremont, CA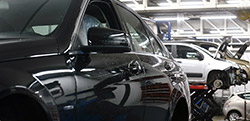 We are a full-service automotive service center providing professional assistance to car owners from Claremont, Upland, Fontana, and other cities in the state. We can cater to their car's repair needs no matter how simple or challenging they are. Our auto technicians are among the most skilled in the state while our facilities rank as one of the most sophisticated and complete among all service centers in California.
We urge you to try our services and see for yourself why car owners love us. Call 909-982-7272 today to inquire about our services or ask for a price quote.
Why Trust Us?
At SEI Auto Repair Specialists, we stand proud with our long tradition of excellent customer service. Since 1986, we have been rendering honest services to car owners from Claremont and other California areas. As a full-service automotive service center, we possess a lot of advantages over our competitors. Here are some of them:
ASE-certified technicians. We are mighty proud of our Automotive Service Excellence (ASE)-certified crews and auto technicians. This means that your car will be serviced only by highly trained and professional personnel who will ensure that it will run like new again.


Certified green station. We believe in caring for the environment and doing our fair share. As a certified Green Station, our facilities are promoting the voluntary program by the Department of Toxic Substances Control that deals with the recycling and use of waste products that are deemed hazardous.


State-of-the-art facilities. Our facilities are among the best in the state, hence allowing us to render services with ease and efficiency. From hydraulic lifts to computerized diagnostic systems, we have them in our shop.


Star smog test and repair station. We are among the few automotive service centers in the state that has been certified as a Star Smog Station. This means that we have the required facilities and authorized by the state to perform smog tests and repairs. We also accept consumer assistance program requests from car owners who qualify under this state program.
The Best OEM Auto Parts
Our company uses only original replacement parts (OEM) for almost all car models and brands, whether domestic or foreign. We carry a wide range of replacement parts straight from automotive suppliers and manufacturers so clients are assured of quality service with the high quality OEM products that we use. As an automotive service center, we believe in using only the finest materials and auto parts since we know that the running condition of our clients' cars will heavily depend on the parts that we install. We promise not to shortchange clients by using inferior parts or performing subpar repair jobs.
Excellent Service Guaranteed
With state-of-the-art facilities, certified technicians, industry certifications and recognitions, competitive pricing, and access to the finest automotive parts, we are easily the best automotive service center in Claremont, CA and surrounding areas.
At SEI Auto Repair Specialists, we surely have all the credentials that car owners are looking for. So don't hesitate to bring your car at our shop for repair and maintenance schedule. We'd be more than happy to assist you in any way we can. Please call us now at 909-982-7272.
We Provide Services to The Following Cities and Towns in CA: