Auto Repairs Upland, CA
At SEI Auto Repair Specialists, we provide reliable and comprehensive auto repairs for car owners from Upland, Claremont, Fontana, and nearby California cities. Our crews are well-versed in auto troubleshooting, and they have the right solutions to all possible vehicle-related concerns. If you want to get your money's worth in terms of the quality of service, then choose our auto repair shop.
We Handle Different Car Brands and Models
Our technicians can handle both domestic and foreign car brands and models with the same ease and expertise. As specialists in auto repairs, we can troubleshoot simple to complex vehicle problems in various car models and makes, including Dodge, Ford, Buick, Chevrolet, Jeep, and Pontiac. We also handle international car makes and models, such as Honda, Toyota, Nissan, Hyundai, Saturn, BMW, Audi, Bentley, Daewoo, and Land Rover.
Auto Repairs that We Perform
We can perform all tasks related to auto repairs, ranging from simple tune-ups to transmission repairs. We can also fix defective brake systems, wiring, engines, and other car components that you need serviced. Our crews have completed numerous repair projects for vehicle owners in Upland, CA and other areas we service with utmost efficiency that lead to clients' vehicles running like new again.
Comprehensive Services Guaranteed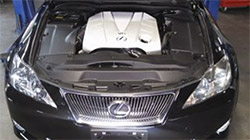 We are not one-dimensional auto repair service providers, but we are known for offering comprehensive services to all our clients. For each task performed, there are add-on services that are meant to provide clients with smooth running vehicles. Case in point: we check and replace transmission gasket and filter, OEM transmission fluid oil, and do transmission flush whenever clients want us to service their cars' transmission system. We also perform adjustments of emergency brakes, repack wheel bearings, and install new grease seals when car owners take their vehicles for brake servicing. In short, you can expect complete car care when you come to us for auto repair service.
We Have the Best Automotive Technicians In-house
The great thing about our company is that we hire only experienced, skilled, and licensed auto technicians who are the best at what they do. We have them in-house so clients can enjoy their needed services every time they visit our shop. Our repair servicemen also continue their training to keep themselves updated with the latest trends and practices in vehicle servicing. Our automotive technicians are all properly trained and certified by industry organizations, so you can trust them to take good care of your prized car.
We Have the Best Facilities for Auto Repairs
One way that allows us to perform our jobs efficiently and effectively is by having state-of-the-art facilities for auto repairs. We have hydraulic lifts that let us move vehicles up and down for servicing and computer testing devices to perform diagnostics accurately. We also have complete troubleshooting tools in our service pit so we can perform the needed troubleshooting quickly.
The Best and Lowest Service Rates
When compared side by side with the rates charged by our competitors, we obviously offer competitive rates that car owners in Upland and other areas we serve can easily afford. Given the great results that we can provide to our clients, our offered rates for auto repairs truly provide the best value for their money.
So call us now at 909-982-7272 for more details of our services.
We Provide Services to The Following Cities and Towns in CA: